Julius Caesar For A Crowd
We're in the thick of Julius Caesar around here. Implementation of everything we learned is gradual--the kids are really clinging to their desks. I am trying it with them daily, and sometimes it works.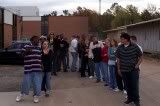 Here we are, all lined up for text layups!
My question for the group is this: A week from Friday, I am doing some entering JC work for all the 10th graders. We see a production the next week and want to get them thinking a bit about the play.
So they'll be as many as 80 kids in the room at once. How would you handle this? How well do you think our activities will play with 80 kids at a time?
Discuss...